W HOTELS - THE STORE AT W TAIPEI
Bring something wonderfully W home or wherever you roam, from signature W products - the Global Glam collection and savvy home decorations to culturally hip media, travel gear that'll take you around the world, and designer pieces to strut your stuff in. We also showcase collections and crafts by local artisans for a uniquely Taiwanese spin on unforgettable souvenirs. Can't bear to part with AWAY® Spa products and exclusive W linen? You don't have to!
The most recent featured item is "Jewelry Holder." The design piece is one of the final selected items of "Trash Re-design Taiwan Design Center (TDC) x W Taipei" in 2013, created by talented Taiwan designer Fanny Kuo and made from the hotel recycled Acrylonitrile-Butadiene-Styrene (ABS). "Jewelry Holder" is inspired by "Nature Electrified", the dynamic design narrative of W Taipei, and not only a sustainability design piece but also a fabulous yet functional product.
One of the most popular items is the Red Dot award winning "Power Tube." The Power Tube 2600 Shake is a portable battery charger designed by Stanley Yeung of MiPow. The charger is certified for use with ipod and iphone. It has an aluminum case which comes in black, silver and fuchsia. The device also allows smart phones from other manufacturers to be charged with micro-usb cables within the pack. The battery of the devise is ini turn charged via USB connection
to any computer.
Moreover, the first ever "W Cook Book" by W Taipei has been published and is now available for purchase. From 5 star hotel restaurants to your home dining table, W Taipei's Cook Book delivers extraordinary yet simple and easy recipes. With original 32 recipes with color photos and personal stories that illuminate the talents behind the chefs' titles, W Cook Book by W Taipei shines a spotlight on dishes from Asian and Western cuisines to late night snacks and pastries. Throughout the book, each of the chefs weaves in their personal tales while sharing secret tips that capture the readers' attention and taste buds.

GET WRAPPED UP!
W GIFT GUIDE
2015/12/01 - 12/24
It's time for holiday shopping spree!
Enjoy 20% discount on W Taipei exclusive items; "W Room Scent", "W Candle", "W Pet" and "W Cookbook" at W Hotels - the Store. Select our ultimate holiday gifts for her and for him!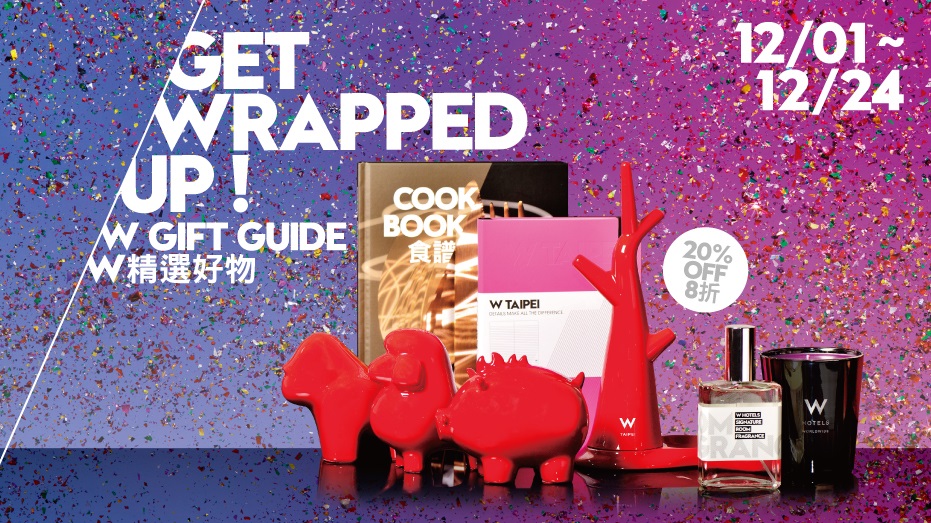 TRASH RE-DESIGN JEWELRY HOLDER
Selling Price:TWD 2,800

W POWER TUBE
Selling Price:TWD 980

W COOK BOOK
Selling Price:TWD 1,800
FOR PURCHASE, PLEASE CONTACT US